Our Process
Finding the right financial planner is key to help you understand where you are today in order to help you get to where you want to be. During our initial engagement we want to make sure that we are a good fit and the process will be mutually beneficial. Our holistic planning process is developed to each client's situation, we tailor our approach to suit all of our client's based on their goals and desires. The planning process takes time and throughout the time spent working together we build a solid relationship that becomes transformational rather than transactional. Our process is built on the understanding that things will change and the ability to adapt is crucial in our endeavor to create momentum.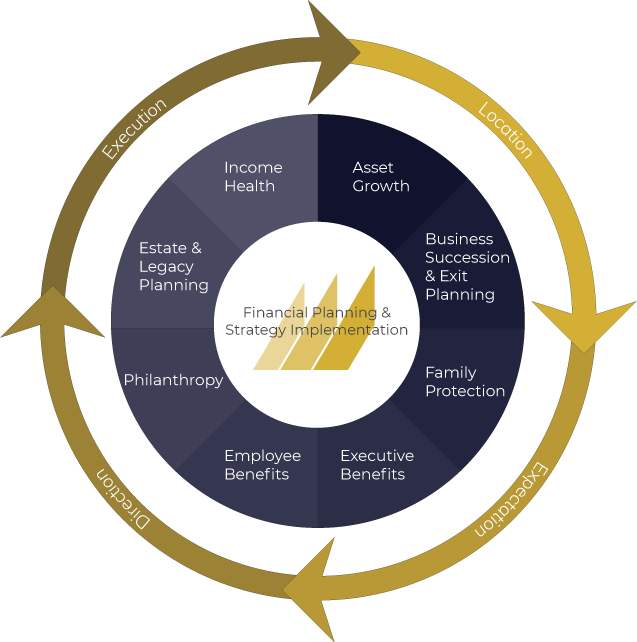 Wealth Management and Retirement Planning
There is no one set retirement plan for each client. During the initial meetings, setting goals for retirement is key. Our firm will help you design which plan will work best for your goals. We offer a variety of accumulation and retirement income plans, insurance products, investment products, and wealth management portfolios. Our process ensures your investment goals are being met from beginning to end and monitored throughout your plan.
Family Protection
Our firm helps identify which financial strategy best suits the needs for the present and future with your personal and business assets. Establishing a plan to protect your assets and how they will be passed down to children, grandchildren, or whomever fits your goals to protect in the future.
Estate and Legacy Planning
We will help build/secure/establish your estate to protect your legacy. During this process we collaborate with you and the other attorneys/advisors/accountants to establish the strategies to meet your personal needs, such as minimizing taxes.
Business Succession and Exit Planning
Our firm works with those who are just starting out their business or have been established for years. There are many different alternatives to help you get established, protect all that you have worked for and protect the business when exiting in the future.
Executive Benefits
Retain key employees and attract new employees to allow the executive to do what they do best so the company can flourish.